Personal
D.O.B

1973

Chinese Zodiac

Ox

Birth Year Buddha

Kokuzu Bosatsu

Family Man

Father, Husband, Son, Brother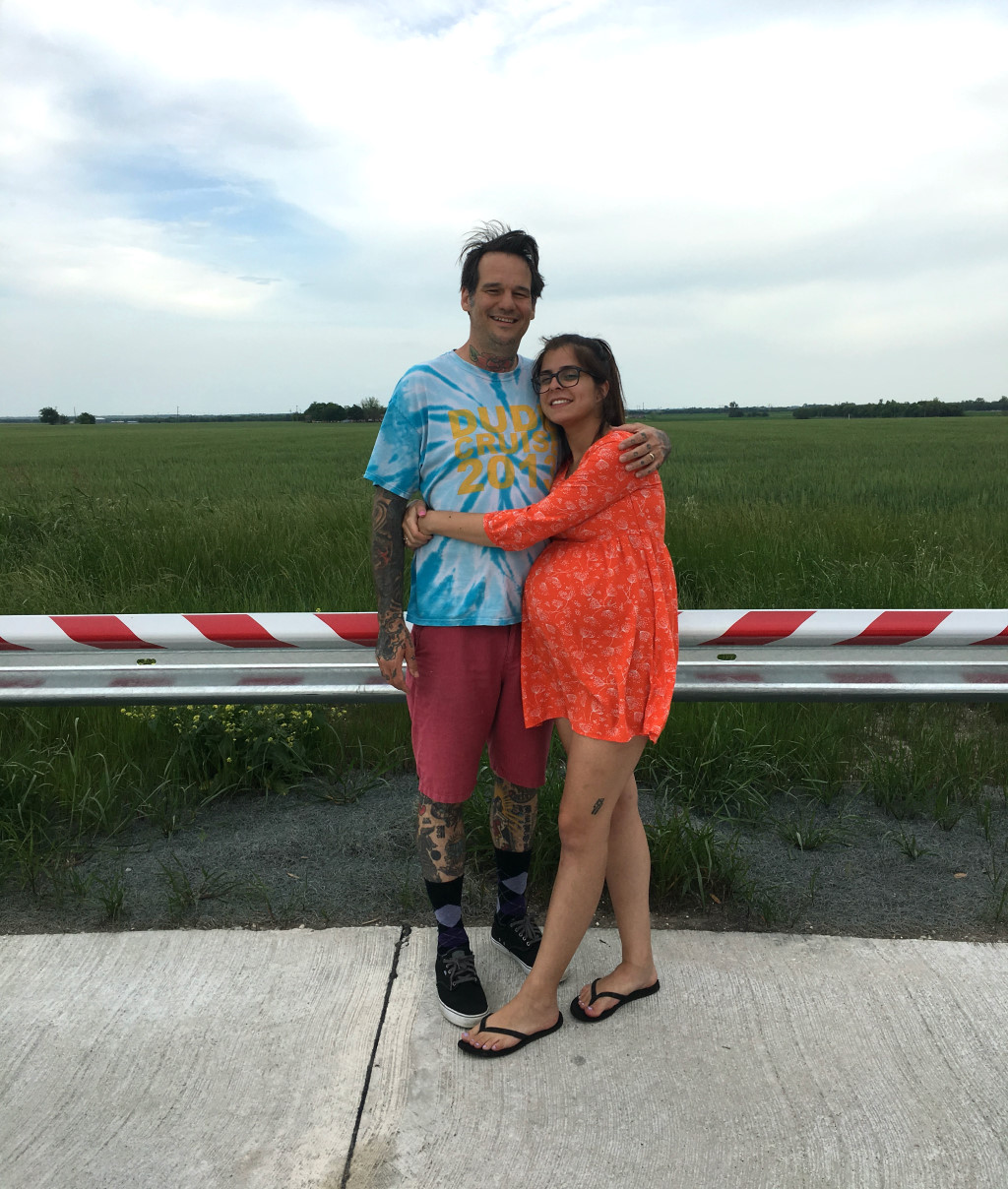 Posing with my wonderful wife days before the arrival of our first born!
Tattoo Experience
Tattooing Since

1995

First Japanese Tattoo Flash Drawn

1995

First Japanese Tattoo Done

1997

Owned and Operated

Liberty Electric Tattooing, 2002-2009

High Profile Position

Elm Street Tattoo, 2009-2016

Private Studio

Heart in Hand Gallery Deep Ellum, 2016-Present

Private Tebori Studio

Waxahachie, 2020-Present

Trained Apprentice

Joe Haasch, 2005

Studied Under

Horikoi of Toyohashi Japan, 2019-2020

First Tebori Tattoo Carved

2019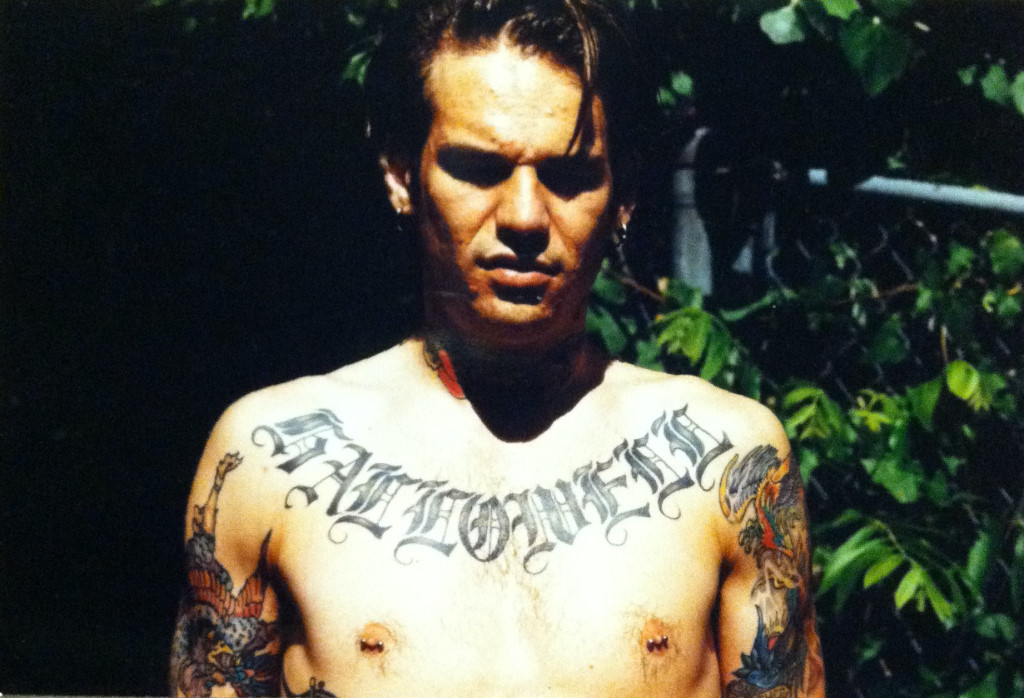 Photo taken out back of Primal Image Tattoo, ca 1998. These tattoos sure look different now!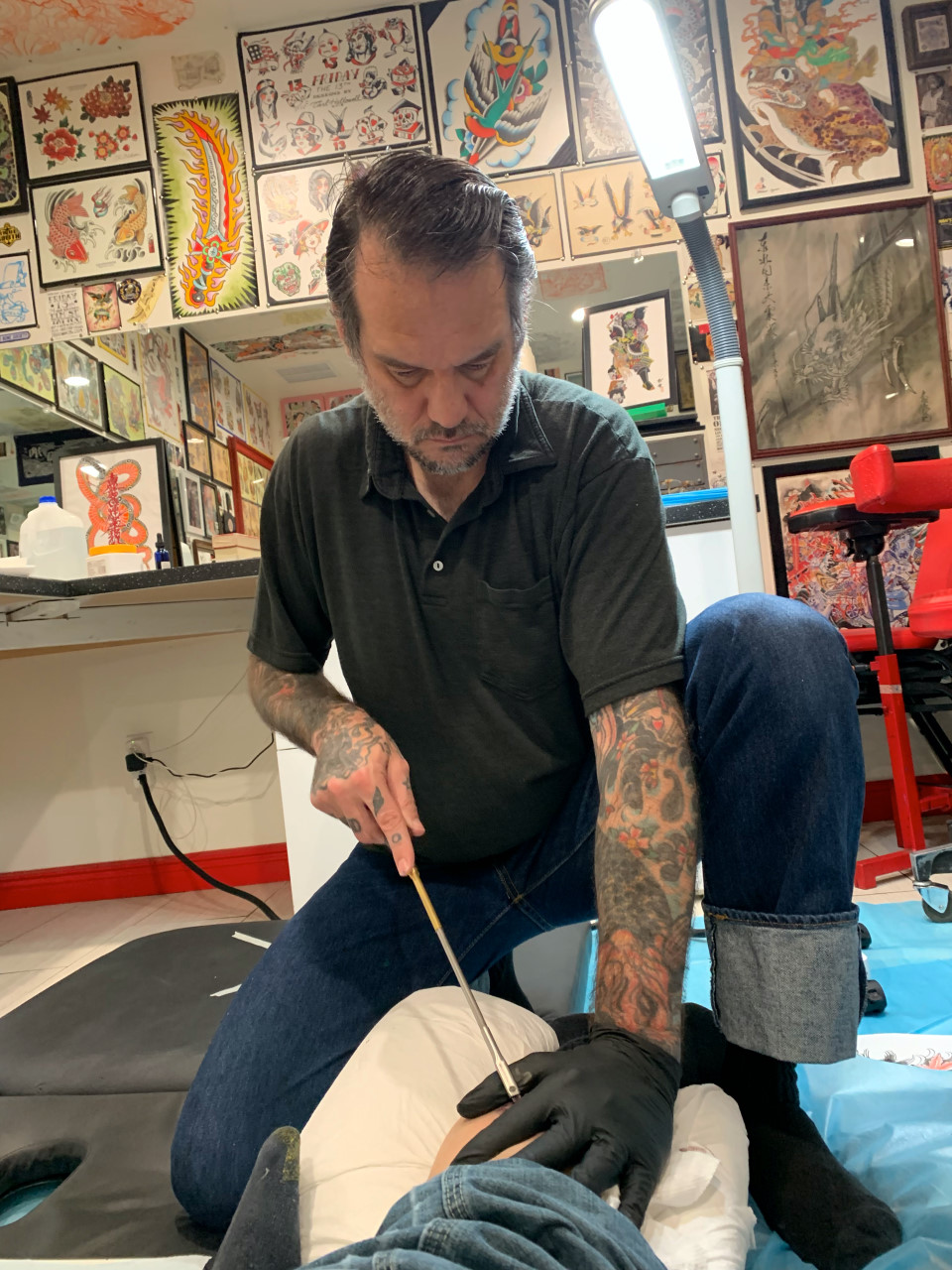 My first tebori tattoo captured on film! The tattoo and the photo credit go to Dave Williams.
Areas of Focus
Tattoo Style

Traditional Japanese Tattooing (Irezumi)

Specialty

Communication in Customer Service

Unique Tattoo Toolkit

Tebori, Sumi, Handmade Color Pigment
Tattoos I See Everyday
My Own Backpiece Done By

Chris Trevino (Horimana)

Blessed to Wear Tattoos By

Horiyoshi lll, Richard Stell, Bob Roberts
Unbelievable. Is that really me?! Getting tattooed by the world renown Horiyoshi lll of Yokohama, Japan.
Here and There
Selection of Tattoo Conventions Attended

Rick Harnowski's Green Bay, PIAE Honolulu, Ink and Iron Long Beach CA

Selection of Guest Spot Positions

Port City Newport Beach, Aloha Monkey Burnsville Minnesota, Happy Dragon Abilene

Tattoo Tours

Gypsy Queen on the Vans Warped Tour with Oliver Peck, Music as a Weapon Colosseum Tour

Special Appearances

Sailor Jerry Tattooist, Arlene's Grocery, Lower East Side, NYC, Jonathan Shaw Vintage Flash Pop-up, Dallas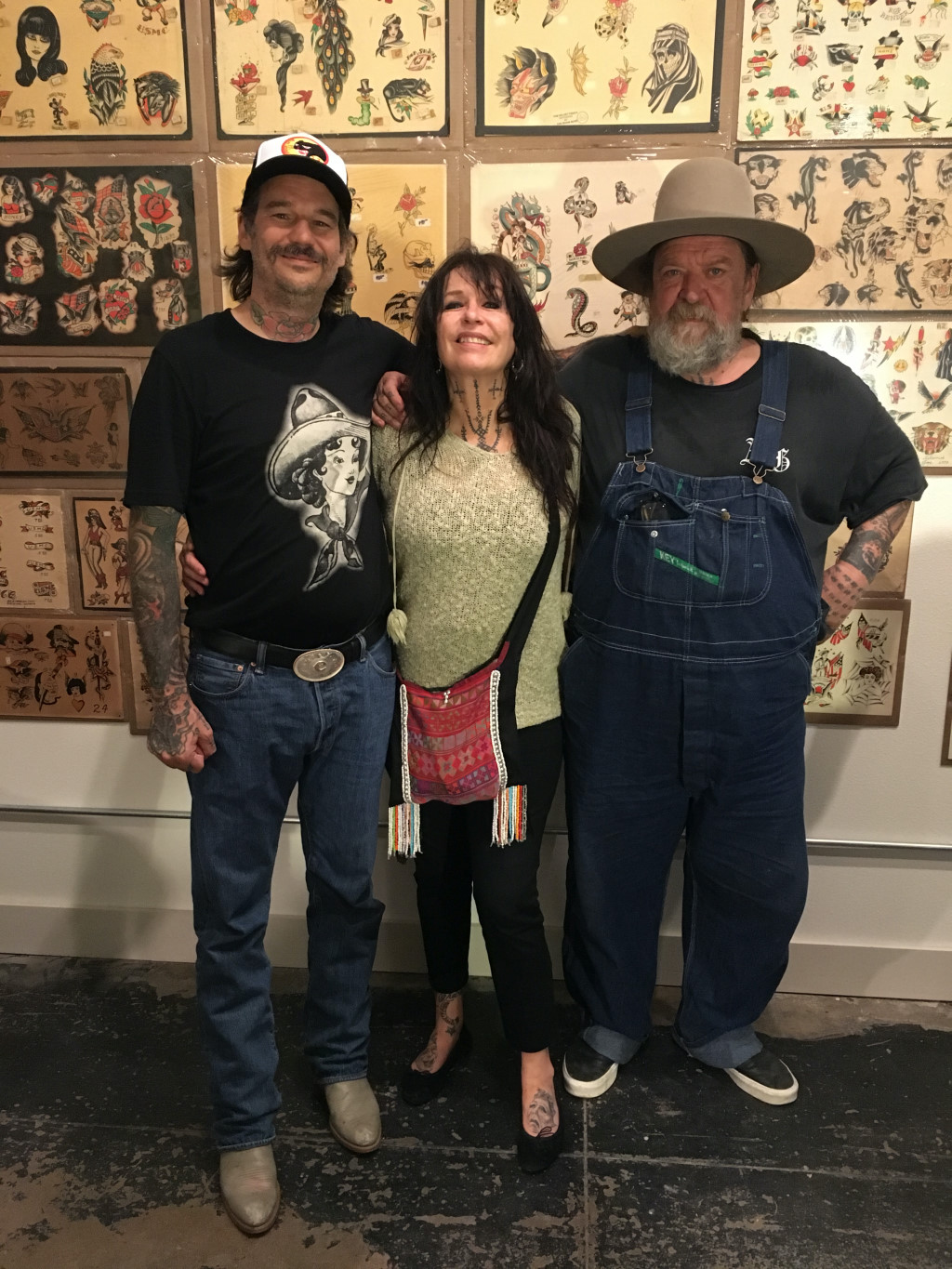 Standing proud beside the Schiffmachers- Hanky Panky and Louise of Amsterdam.
Your work is out of this world. Keep up the great talent. Your one hell of a tattooer.
Real tattoos for real people…keepin' the real texas tradition alive bud
first off carl is my buddy he does bad ass traditional tattoos he did a killer stray cats logo on my forearm in solid black he also did the state of texas that says dime for dimebag Darryl of pantera he also did a bitchin rockabilly chick with a deck of cards and a bottle of booze with some cherries it says rocker's dream I just went up to him and said I want a rockabilly chick and the genius he is came up with that carl is a very kind cool dude.
Carl is a great tattoo artist. Great with clients and makes sure everyone walks out with a killer piece that they will love forever. Very patient and kind, and it shows in his work and with repeat customers. Keep up the good work Carl!!!
I'm not sure what type of witchcraft/wizardry you did on me, but this tattoo is almost completely healed, and it hasn't even been a week yet! What the?!? Haha, awesome. Thanks again for a KILLER tattoo and arguably the best tattoo experience I've had thus far.
Love your site, very informative and helpful! I might need another?!?!?!?
Great stuff here man! Love it!
It's amazing after all these years how you've stayed true to the art. The way you continue grow but still hold on to the raw power of what we hold dear. In a time when tattooing is going in a diluted direction and seems to have lost it's magic, there you are to push the brakes. To give soul back to the sacred. Anyone that knows you knows that you are an asset to tattooing. I am honored to call you my friend. May you find enlightenment in this thing we call tattoo and finally capture the perfect panther!!!!
I've been getting tattoos by Carl for almost 20 years now, including two half sleeves, a back piece, and various other sundry pieces, and I've never gone to anyone else. Carl is a genuinely personable guy that gets along with everyone, and is a consummate professional that takes his craft very seriously. He is always prepared to give you a unique, personalized tattoo that you'll be proud to wear the rest of your life, no matter what the style.
I've been getting tattooed by carl for the better part of 2 decades. He always makes sure that we don't miss out on any painful spots. He's a great guy like that! I have trusted Carl with both sleeves and now my back. His light handed approach makes it easy to sit with him for hours.