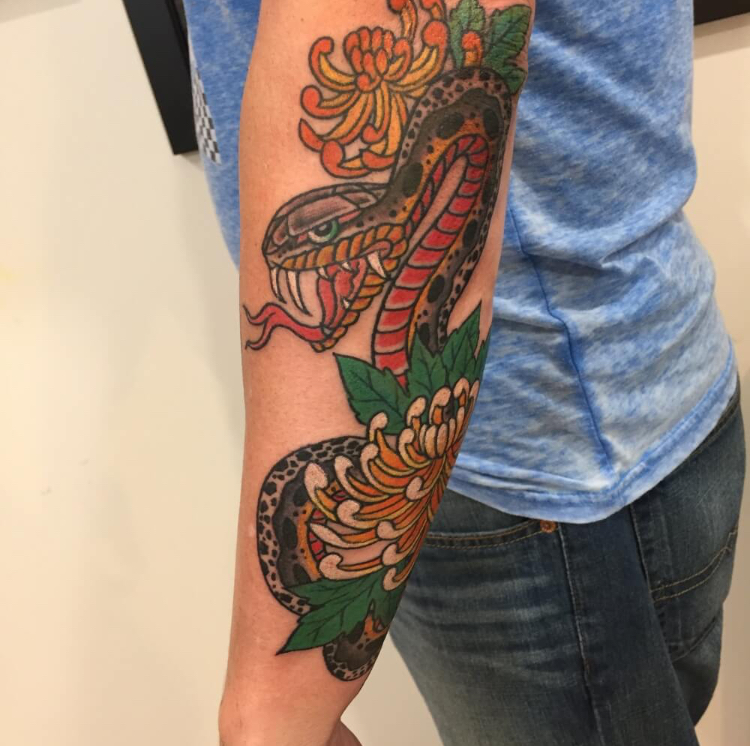 Posted by Carl Hallowell
On January 25, 2018
As in any of the art forms, there really is no "best" tattooist. The great tattoo artist from the 20th century, Paul Rogers summed it up by saying- allow me to paraphrase, "Tattooing is a few great guys sitting atop a middle layer of competent artists, sitting atop a sprawling mass of more bad tattooist than you can imagine." In that light, my new column is dedicated to the few great guys, and some of those more competent guys up towards the top too.
It goes without saying that I can only personally recommend a tattoo artist if I happen to know him personally. I believe a great tattooist is technically proficient, talented and creative, and, perhaps above all, a people person who respects the customer he is blessed to have. And a lot of times the tattoo artist is, well, a character. Or, sometimes, he embodies the ideal man.
Joe Haasch represents the latter. A good person, a hard worker, very talented, very humble and respectful; all these are qualities which I think make Joe more than deserving of this title. It is just a beautiful thing to see the way his customers stick with him, year after year. I think they find in him a trustworthiness they have rarely encountered. I know they get great work from him, and I don't think he hurts them too bad.
Meeting Joe: Man, Myth, Dallas Tattoo Artist
Joe's one of those guys that are just really few and far between these days. He is the kind of tattoo artist that can do anything- he is an American Traditional Tattooist at heart, also a student of the Traditional Japanese tattoo, which he excels at as well. He got so good at doing realistic black and grey work that he often stays busy with that style when not pounding out consistently great Traditional work.
It must be said that is drawing skills are just fantastic. He really makes it look easy, but I can tell you from experience that it's not! I remember one time he did a group of paintings with no preliminary drawings, and the images came out better than if most of us would have sat there redrawing them all day and wasting a whole pad of tracing paper!
Speaking of his paintings, he did a really cool series last year where he first painted a traditional tattoo image, and then, kind of boiled it down to its essence; its primary shapes and movements, for a matching companion piece. I wanted to buy the eagle and panther sets on the spot, but I thought, the world needs to see these. These need to get out into the world farther than I can take them.
As a family man, Joe is also an example of how most of us wish to be. He works hard to provide for them. He loves them. A lot of times, you can hear Joe and his customer talking family, as the lines flow one after another, into another back piece, another sleeve. He also stays close to his mother and father, his brother and his sisters, as well as old friends. I don't think he's ever lost one of them! He still sees all the old guys he used to jam with, in the band of their teenage years, back before Joe even got his first tattoo. Many of his old friends go back to his high school days, some fifteen years ago, back in Weatherford Texas, far from the big city of Dallas that he tattoos many of his old friends in today.
No Tricks, No Hype, Just Tradition
Reading my words here, I feel as if I am putting Joe forward the same way that he does. Straight to the point, no games or fancy tricks, what you see is what you get. No hype, no acting, just the real deal. I feel my writing coming down to earth as I describe this best tattoo artist in Dallas. It just seems like the right way to represent the man.
Joe works by appointment only at Heart in Hand Gallery, Elm Street Tattoo's all private location for a select clientele. He is usually booked out two to three months in advance. He tends to work long days and see quite a few customers five or six days a week. And then, he will take the family on vacation, enjoying his time off with gusto just as he enjoys putting these tattoos on his many customers one by one.
Joe's got that style that works great for traditional tattoos, he does it simple and bold, but his illustration skills always add that extra something to put each design over the top, to make it memorable, while at the same time making it right. Highly recommended, Joe Haasch is this month's Best Tattoo Artist in Dallas. Just don't ask him to admit it.
If you want a tattoo from a traditional tattoo artist and Joe isn't available, get in touch with me today. I specialize in traditional and Japanese traditional tattoos and believe that the art of the tattoo is sacred. Contact me to find out about availability and scheduling a consultation.