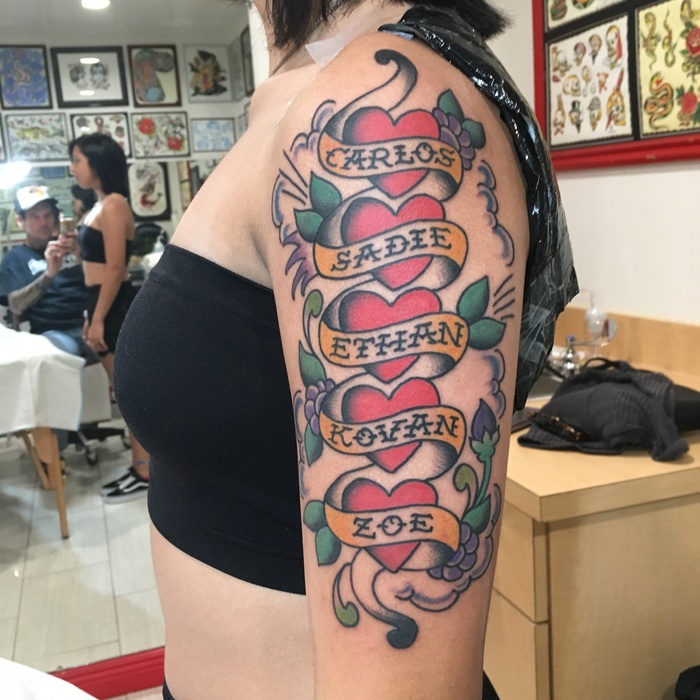 Posted by Carl Hallowell
On May 24, 2017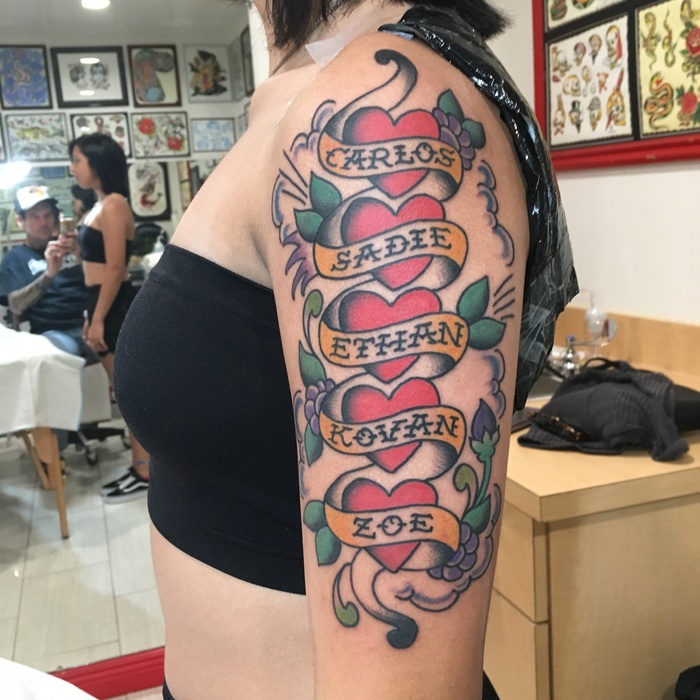 Alexis came to me knowing full well what she wanted, an American traditional tattoo that would pay homage to her family. Since the beginning of American tattooing, this is one of the main motivations for getting a tattoo.
At first, we had the "Mom, Heart, and Banner." Sometimes, you would also see Father, Brother, or Sister banner tattoos. A baby's name tattoo is a welcome addition to any new parent's tattoo work. However, oftentimes many customers choose their last name as their first tattoo. Blood ties are strengthened by shedding a little blood during tattooing. Connecting you to family in a new way, a special way, a lasting way- the tattoo remaining for as long as the relationship of body to body exists, before we become spirit once again.
The heart and banner tattoo is synonymous with classic American tattooing. Its bold blend of black ink with a heavy concentration of red ink can be broken up with a supporting or contrasting color in the banner, flowers are usually added for the same reason, to complete the look, and balance the deal.
Classic Tattooing in Dallas
In the banners here, I have added the names of Alexis' brothers and sisters in the classic "pike style tattoo lettering", first used, if I'm not mistaken, down on the Long Beach Pike by none other than Bob Shaw himself. At the age of 16, Shaw had received a full bodysuit tattoo from early great tattoo artist, Bert Grimm.
Long Beach California was the epicenter of Traditional American tattooing for quite some time, and none were better than Bob.
Finishing the Tattoo Design
For Alexis' tattoo, I've used more familiar tattoo designs to round out the image including green leaves, blue clouds, and black and purple sprays for effect. We were able to finish her tattoo in a single session.
It's important to note the fact that Alexis' idea for a tattoo was so grandiose, so larger than life, and inspired by her own parent's overachievement of such a large and blessed family. A tattooer can only produce what his customer will allow him to. Our work is only as good as your ideas, your willingness to trust us, and your willingness to let us push the envelope, warp reality, or stylize your world. Be brave and be superlative! Your tattoo artist will thank you for it!
Visit the Dallas Tattoo Parlor
I did this, like all my other work, in the Deep Ellum area of Downtown Dallas, at Elm Street Tattoo's own Heart in Hand Gallery.
I am proud to be a Dallas tattoo artist, more importantly, a Dallas Traditional Tattoo Artist. I am here to build the bridge from the strength of the past that extends out into the uncertainty of the future, When you are ready for your first tattoo, contact me, to take your first steps into true tattoo traditions.