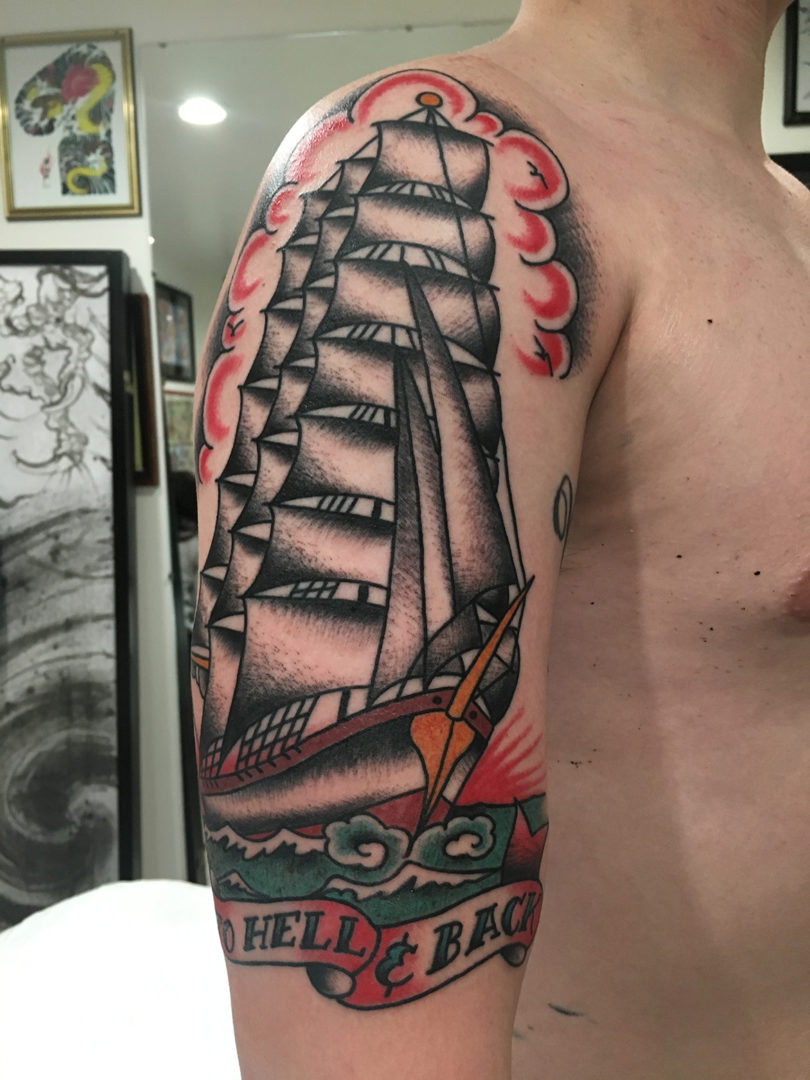 Posted by Carl Hallowell
On March 20, 2017
Young Graylin's traditional clipper ship tattoo would have to take the cake for the first tattoo of the month in this new section of my website. The choice was hard- the traditional tattoos I get to create are like children, you cannot have a favorite one. In choosing I scrolled through my photos of the last month. I saw great pieces that were still in progress, beautiful flowers and natural elements, and individual tattoos that were everything the customer could dream of. There were also bold, in your face tattoos that were on the small side, just like the guys used to do on the Bowery, out on the west coast on the pike, and up in the northern midwest where you probably didn't want to keep your shirt sleeve pulled up too long for the cold.
American Traditional Arm Tattoo
I ended up choosing this clipper ship tattoo design. It's a little on the bigger side for traditional American tattoos, but hell, it's 2017, and we all want impact from our tattoo designs. Large tattoos give you that loud statement we all want to hear. I also liked the fact that it was just another clipper ship, we weren't reinventing the wheel, just trying to make it as round as possible. And trying to shade the hell out of it.
Traditional Tattoo Wording and Coloring
A nice touch was the wording he chose to have added- some would say artwork doesn't have words but this is tattooing- and words sometimes drive the point home. He captioned this one very well and I'm glad I made the letters bold and colored 'em in true blue.
I think all the colors came out well- a nice balance in contrast and flow, something I aim for in every tattoo. Lord knows I messed up many color jobs in the past! They were subtle mistakes that the customer never knew was made. But I saw them, and learned from them, like any good tattoo artist should.
That is the difference that experience brings to the task of tattooing. Subtlety is the fruit of practice. You may not notice it, but it is there. More importantly, sometimes, is what is not there! Leaving some things left unsaid in a tattoo is like the difference between someone who never stops talking and someone who knows how to say what they mean.
Tattooing in a Dallas Tattoo Shop
I liked that this tattoo was hammered out in one furious four hour session- just hammering down and tattooing, man. The private studio at Heart in Hand helps me to work big and quick like this. Some Waylon softly singing in the background, the massage table laid out in the center of the room, the tattoo machine turned up LOUD, and we can focus on the task at hand. Focus on the customer. Focus on what they are wanting to achieve. They are wanting to become tattooed, and I am the Dallas tattoo artist to do it. They are wanting to connect to this age old tradition. I am the conduit that gets them there. I read a few books and I traced a thousand designs. I asked the old guys. I remembered what I could. I'm super proud when I can pass this on. I pass it on in the fat, black linework, the peppery black shading, and the saturation of color, color, always more color!