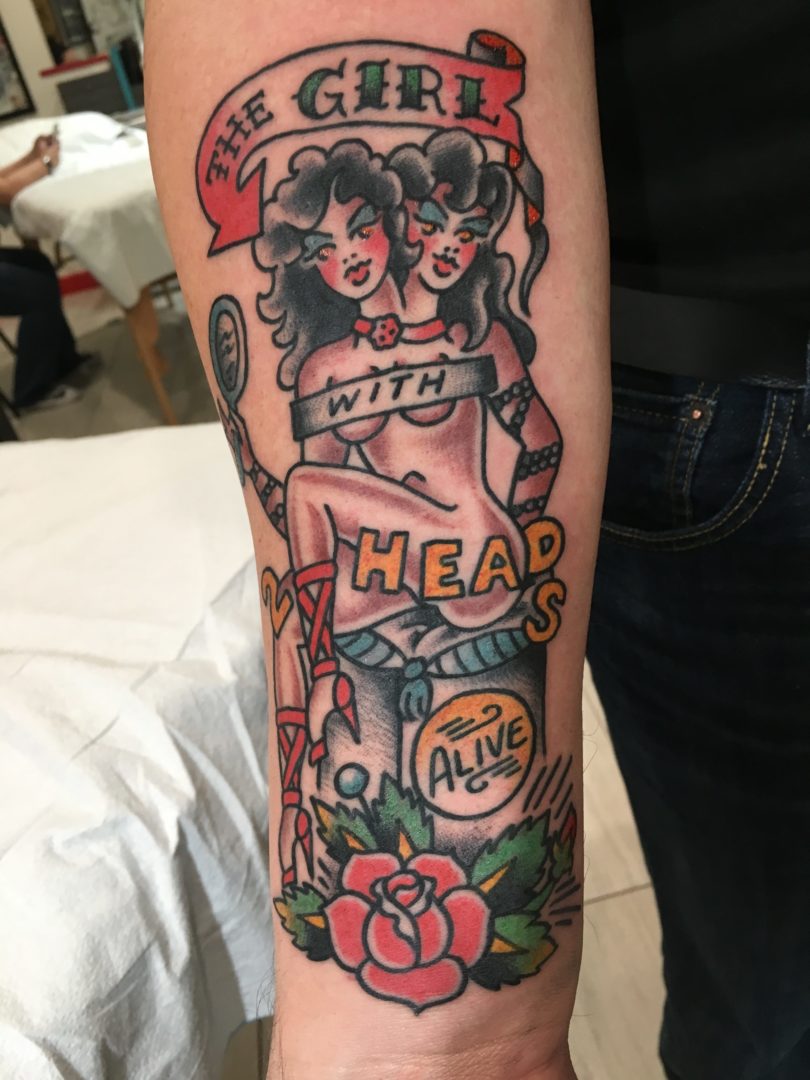 Posted by Carl Hallowell
On April 29, 2017
Big Jim, "That Old Guy", takes the tattoo cake this month with this outrageous forearm tattoo inspired by the sideshow banners of the old carnival days, and by the freaks, geeks, and oddities that were depicted on them. I was excited to turn this into a traditional pin up girl tattoo with traditional tattoo lettering, and a traditional rose tattoo to the mix as well. As a Dallas tattoo artist, I was really happy with the fact that even though this was a very creative, different design, it still had its roots in, and was entirely made up out of, traditional American tattooing.
Traditional Tattoos From a Bygone Era
This tattoo is reminiscent of the halcyon American days of yesteryear that gave birth to the sideshow banner, one of the coolest art forms in the world, and gave voice, or at least a paycheck, to many strange individuals who had been born a little different than the rest of us. Those were the days where tattooed men and women had begun to cover their bodies in full-body traditional tattoos, when sword swallowers, carnies, animals, and all of the rest would share the big tent, in your town, for a week or two, and then be gone, leaving only a deep impression on the furtive imaginations of the old and the young alike.
Tattoo Parlors in Dallas
Jim drove up from Waxahachie, Texas with Kathy to get tattooed at Heart in Hand Gallery in Deep Ellum, Elm Street Tattoo's all-private, all-appointment only studio where I now work full time with fellow Dallas tattoo artists, including Joe Haasch and Little Linda. We had a great time getting to know each other better, talking about the carnivals and sideshows we got to catch a glimpse of, and listening to Merle Haggard. And of course, hammering out that bold tattooing, that Texas tattooing, and that color tattooing I have devoted much of my life to through studying Sailor Jerry tattoos, Ed Hardy tattoos, and working conventions alongside Oliver Peck. I've also learned through getting tattooed by some of the best in the business, including none other than:
Horiyoshi iii

Bob Roberts

Richard Stell

Chris Trevino (Horimana)

Permanent Mark

Small Paul (Horigisei)

Scott Harrison

Weldon Lewis

Jeff Rassier

Tim Lehi

Derek Jefferson
For the Love of Tattooing
What else to say of this tattoo I enjoyed doing, and now enjoy looking at so much? Simply put, I love forearm tattoos, I love tattoo lettering, I love pin ups and red roses, black shading, and hand-mixed pigment. I love giving these tattoos that old school tattoo look. I love taking all of my customer's ideas and turning them into a traditional tattoo for them. And I love doing it for them, the customer. In the words of Buck Owens: "It takes people like you, To make people like me." That makes me forever indebted to my customers, and I hope the work I put on them leaves them feeling forever indebted to me as well.