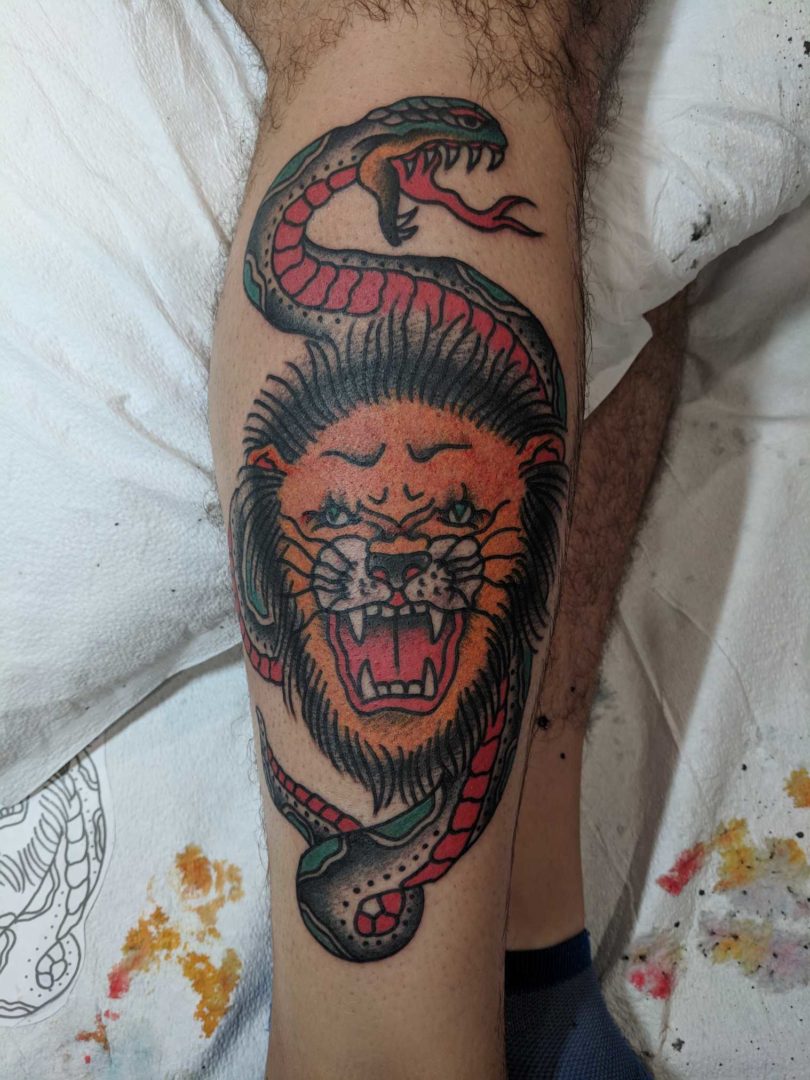 Posted by Carl Hallowell
On November 12, 2017
The tattoo of the month this time around is another traditional tattoo that I hope you have come to expect out of my work as a traditional tattoo artist. It was Mike Malone, the great tattooer who took over Sailor Jerry Collins' shop after his passing, who said that is what the craft needs "consistent hitters." What a long road it was towards consistency. It used to be, while I was gaining experience, sometimes you get lucky and sometimes you don't. I am glad that I have cracked a few eggs, and can now whip up an omelet.
It was also Malone, aka Rollo Banks, who said of traditional tattoos, "You don't have to stand on your head to do 'em." He certainly had a way with words; let alone tattoos, tattooing, and that good old fashioned tattoo philosophy that all of us who share this passion for our trade have developed.
The Art of the Second Tattoo
In the spirit of that quote, I would like to offer up Mr. K's tattoo this time. This was his second tattoo which is often the free-spirited tattoo after the obligations we put on ourselves when choosing that first tattoo. A traditional tattoo must describe you, your experience, or your sentiment completely.
The second tattoo finds us becoming comfortable with the idea of being tattooed, settling into our own skin more deeply, and catching the vibe of what tattoo art is all about.
A lot of people, over the years, have looked at the wall of traditional tattoo flash and told me specifics of what they didn't want. The thing is, a traditional tattoo is not meant for the wall, it is meant for the skin. The details, the designs, shapes, colors, and combinations are all the way that they are for a reason. so don't try and outsmart it! You will end up looking dumb.
At any rate, I love my customers for the fact that they respect these traditions the way that I do. It makes them incredibly easy to deal with, it makes you want to serve them as a tattoo servant who must look inside, and take the responsibility to say what is right or what will look right. Corresponding with the roots of this tradition of tattooing, digging books by candlelight, fluorescent light, sunlight, all day and all night, like a worm is the life of a traditional tattoo artist.
These types of customers aren't looking to get over on you, to make you exert less energy for a discounted price. They don't want you to dumb it down, they don't want to bully you, tell you how to do your job, miss their appointments, lie or otherwise shortchange themselves or you. They understand the process, they have respect for the art of traditional American tattooing and traditional Japanese tattooing. By having this respect, they walk a little more upright, are that much further from being apes or monkeys.
Traditional Tattoo Artists Thrive in Dallas
This particular traditional tattoo I like for a multitude of reasons- Like most of my work, I tattooed this in Dallas Texas at Heart in Hand Gallery, Elm Street Tattoo's private appointment only studio location. It is still a deep Ellum tattoo, but it is done behind closed doors in a studio with no tattoo sign out on the street. It's hard to beat a panther tattoo, a tiger tattoo, a lion tattoo or a snake tattoo at that. Put them both together and you have a juxtaposition, a story, an allegory, visual poetry. These images do not have an acute meaning, they have associations. I believe they are archetypes. One thing is a symbol for many experiences, ideas, nouns, verbs. There are innumerable actions and things, but a small number of symbols that describe them all.
I was very proud that this tattoo is very straightforward. There isn't any tomfoolery going on here; no blue in the muzzle of the lion, no attempt to pander to realism.
I also liked that this tattoo represented and upheld the foundations of traditional tattooing throughout all its grand history. As a traditional tattoo artist I can appreciate a slight reminiscence of the European traditional tattoo styles of the 1920's and 30's, the raw but pre-Coleman style of American tattooing in the early 40's, and the open, strong style of tattooing put forth by Cap and copied all over the eastern seaboard throughout the 50's.
Now we are lost again; not out of ignorance or want, but out of over-saturation, excess and entitlement. The great way is in danger of being lost as the iPhones dictate and set the trends.
Some people are set in their ways. They have an opinion; they stand for something. These are the customers of traditional work I mentioned earlier. These are the tattooers who look up to somebody still, who believe they are standing on the shoulders of giants, "in the middle", as Higgs said. Be a tiny part of something huge, practicing it like magic; do what is prescribed by the mages of old, you do right and fear not. That is the art of American Traditional Tattooing.
For more information on traditional American tattoos or to schedule a tattoo consultation call today!